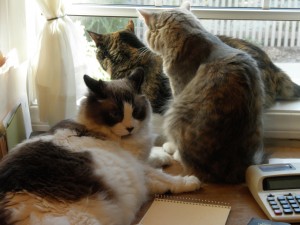 Highly Acclaimed! That's a phrase used to describe the Klepto Cat Mysteries this week. I don't know the origin, but it has been making the rounds throughout the Internet. Cool.
If you've stopped by this blog, you are probably interested in cats. Are you aware of some of the other cat blogs? There must be hundreds of them. Just do an Internet search and you'll find some hosted by cats—cat who write!! There are also bloggers who write about their own cats and those who give advice and share stories about cats. Some cat bloggers review books about cats—both fiction and nonfiction. Others review items or cats—food, toys, cat trees, etc.
Some of you have probably visited the blogs where I've been guest blogger, so you're aware of some of my faves. If you find others that you think would like to know about my Klepto Cat Mysteries, let me know.
About This Blog
I started this blog when I wrote my first book about cats--Catscapades, True Cat Stories. In this book, I share stories of many cats I've loved over the years. I'm sure you'll recognize some of the cats you've known over the years, as well. Today, I'm sharing a photo of the three cats currently sharing our household. Max (16)is the snowshoe-type cat facing the camera. Lily is next to him and the tortie lying on the window sill is Sophie. All three came from precarious backgrounds and their stories are in the book–Catscapades. You can order it at amazon or get an autographed copy here: www.matilijapress.com (It would make a lovely Easter gift.)