I'm not talking actual cats here, but cat motif, art, images—you know, collectibles. Do you collect cat things? Do people give you cat figurines, card collections with cats, books about cats, socks with cat's on them? Do you have one or more leopard-print
blouses, hats, shoes? Do you own a cat-ear headpiece? Do you smile when someone calls you a crazy cat lady (gent)?
I can say yes to all of this. While I have just one real cat—Olivia, my house is full of cat things. My great-grandchildren love to come over and count the cats in my house. I have cat stationery, calendars, photos, blankets, pillows, toys, emery boards, coffee cups, even a trash can with a majestic cat figure on it.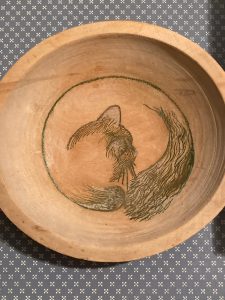 Some of my more unique items include a cat screen cleaner, a framed poster featuring dozens of vintage advertisement using cats—Old Tom Safety Matches, for example, and an advertisement for sewing thread. It's awesome.
I have a mouse pad with kittens and vases, luggage, book ends, a door stop, decorative outdoor flags, a spoon holder and more all featuring cats.
What is your most unusual cat motif item? Mine is probably my cat nativity scene.