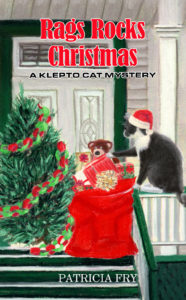 I'm happy to see the interest in my latest Klepto Cat Christmas story—Rags Rocks Christmas. The reviews are wonderful. One reader calls the story "heartwarming." Another reader tells me she read it twice. Yet another one says the story was so touching she wept four times while reading it. And someone else said, "The author captures the true meaning of Christmas."
Order your print or kindle copy at Amazon.com. If you want autographed copies, order here: KleptoCatMysteries.com.
Here's the description for Rags Rocks Christmas.
Rags helps solve a mystery for a Christmas to remember.
It's Christmastime and the Iveys decide to adopt a hardworking local family that seems to need a lot of help. Everyone jumps on the bandwagon hoping to fill this family with holiday cheer, but only Rags knows the secret that holds the young family hostage in a most alarming way. When the family loses their home the Iveys take them in, will their best-laid holiday plans become lost in the shuffle? It's a wild ride for everyone, but in the end, Rags and the children show the way to the true meaning of Christmas. This story will touch your heartstrings and fill you with holiday spirit.