People ask me how I came to write about cats and how I come up with so many different plots. I mean here we are 64 books later—each book containing multiple side plots to accompany the main one and I'm still at it. Olivia's Book 8 is with the editor as I write this and I'm spending hours each day fleshing out Book 58 of the Klepto Cat Mysteries.
I started writing for publication when my girls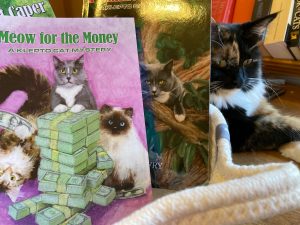 were in junior high school back in 1973. I wrote articles for magazines. I had a few columns in magazines and a newspaper and I published a few books along the way. In 2012, with hundreds (maybe thousands) of published articles to my credit and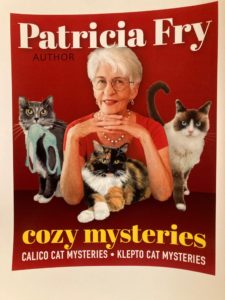 somewhere around 40 books, I retired from nonfiction and wrote my first cozy mystery with cats—a Klepto Cat Mystery, Catnapped, which was actually inspired by a true story. I'm pleased and proud to say that I continue in my original goal as a writer–to inform, educate, and entertain readers through my Klepto Cat Mysteries and my Calico Cat Mysteries.
It might interest you to know that in 2023 I'll celebrate 50 years as a published writer and author and probably with 110 total books to my credit. Do you know how many words that is? Well over five million.
My grandchildren attempted to arrange a celebration for me when I hit 100 published books—yeah, I have some wonderful grandkids—but with the pandemic… Maybe it will happen someday—when I hit 200 published books, perhaps or 100 cozy mysteries???