You know that I enjoy photography and I sometimes whine when I can't get the shot I want with the cats. I guess photography is like everything else with cats, it's all up to the cat—on the cat's timeline, depending on the cat's mood…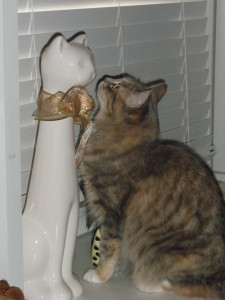 I like to get that shot depicting the cat doing catlike things, but also uncatlike things. And I relish capturing a sweet or unusual moment the cat has staged. Cats will stage photos, like this one of Olivia looking at herself in the mirror. Cute. And the photo you've all seen that I took of Lily playing with the grandkids' alphabet blocks. That one was chosen for publication in one of
the Cat-a-day calendars. It also appears on the box the calendar comes in. That's a keeper.
One of my best efforts was no effort at all. It's the once-of-a-lifetime capture of my mother's cat, Smokey, leaping toward the camera after a bee. Yeah, you've all seen it. Proud of that one.
We carry cameras with us everywhere we go these days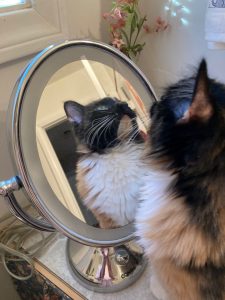 in our phones. It's easier and easier to snap those spur of the moment pictures of a cat in a certain setting, or with unusual lighting, doing something uncatlike, silly, cute. Oh, and what about cats interacting with other animals–pigs, ducks, horses, and so forth. Is there anything cuter?
You may remember the photo I show occasionally of a cat curled up in a resting pony's tail.