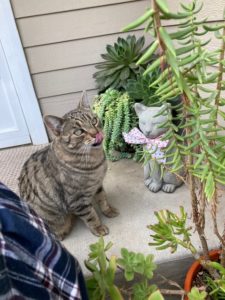 We had visits from a new cat over the weekend. A handsome boldly-striped tabby stopped by for a little food and a lot of petting.
Does this happen where you live? It doesn't happen to us very often, but it happens. The first time we entertained what we thought was a stray was shortly after we moved into this house (over 30 years ago). The cat seemed needy. He was a cute, fluffy tangerine cat who told us he had no home and he was starving for affection and food. Turns out the little devil was a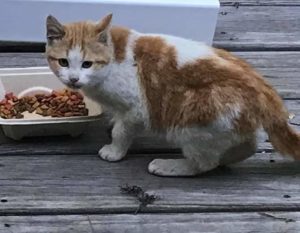 complete scammer. One morning we found him sitting on our porch as usual, but there was something unusual about him. He was wearing a post-it note on his forehead that said, "Don't feed me. I belong to Tyler." We looked up and there was Tyler and Mary waving at us from across the street. Nice way to meet neighbors.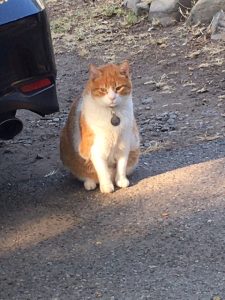 Mary was the first person I called when the pretty tabby showed up this week. She has a lot of cats. This one, she said, was not hers.
We walked around the neighborhood trying to find this cat's people. We posted a notice and his picture on facebook. Yesterday we took him to the Humane Society to find out if he had a chip. We didn't know if he lived around the corner or if he had escaped from someone who was traveling through. There are so many possible scenarios. Turns out he does have a chip. The owner did not answer the phone, however, when the humane society reception called, so we left the sweet boy in hopes that he will be reunited with his family. I would have liked to know for sure he was going home and that he hasn't been abandoned. I can only hope.
Are you a magnet for runaway or lost kittens and cats? How many of them have you kept? Over many years, I have to say I've kept maybe half dozen cats that showed up at my doorstep.