We missed Rainbow Bridge Remembrance Day—the day dedicated to remembering our pets that have gone over the Rainbow Bridge. Remembrance Day was Saturday—August 28 this year, but if you're like most adoring pet owners, a day doesn't go by that you don't think about a special cat or dog you've lost. Lily, who died of kidney disease way too young, left us last year—amidst what we thought was the worst of the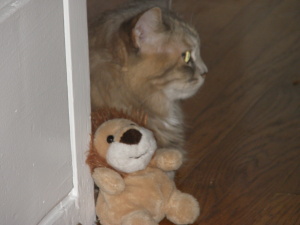 pandemic. I think about her often and those memories make me smile, miss her, want to honor her, tear up a little, or laugh out loud remembering some of her sweet antics.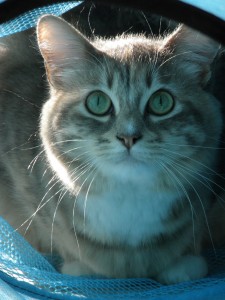 I also often think about our Himalayan, Katy; the silver-shaded Persian I had years ago, Crystal; our wonderful odd-eye white cat, Winfield; the kitten we found in our woodpile that year on my birthday, and who was with us for 17 years, Max;
and so many others that I loved and lost. Is that the point of Rainbow Bridge Remembrance Day? Yes, it is to remember those pets and to honor the lives that they lived. How?
1: Reminisce, of course. We do that often throughout the year, asking each other, "Do you remember when Lily…?" Sweet memories.
2: Look at pictures. I have a treasure trove of photos of Lily. You see them posted here often. One of my daughters also put together a book of Lily's photos which I've turned into a coffee table book and I look at it often, despite the scratch across the cover where Olivia dug in her claws when she was
a kitten. Awww, she was probably just trying to open the book so she could get to know Lily.
3: Donate to a local animal-related organization. When I donate, it is often with Lily or Max or Winfield or Katy, etc. in mind.
4: Plant something. A living memorial is always a lovely reminder of a special pet.
5: Create something in the pet's memory. I have a friend who does pencil drawings of pets. What a treasure to keep. It's easy to frame a photo to keep. I also have a necklace created by a famous artist with Lily's photo in it. I wore it on Rainbow Bridge Remembrance Day this year. Display your pet's favorite toy—retire it to exhibit status.
I'm sure you have your own ideas and rituals related to the very special pets you've lost. I'd like to hear about them. Post here or send me the story at PLFry620@yahoo.com
For me, Olivia is a gift from Lily—I like to think Lily met Olivia on the other side of the Bridge and told her about me and asked her to comfort me. Likewise, I hope that Lily has found comfort and the love she deserves wherever she is. Here come the tears…