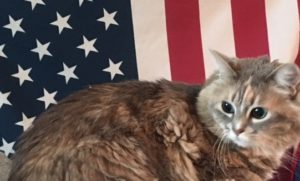 Well, here's a holiday I wasn't aware of until this year. Did you know that July 11 was All American Pet Photo Day? But it may not be too late for you to join in on the patriotic fun.
Here's the deal, you are invited to photograph your pet cat, dog, fish, reptile, parrot, etc. either wearing or against a background of the red-white-and blue and post the pictures on social media.
Maybe you already did that last week (July 4). I think we've all seen cats posing with flags, dogs wearing colorful sunglasses, guinea pigs with kerchiefs around their neck….
If you didn't participate this year, there's still time. If you want to see the creativity some people put into their All American Pet Photo Day, just type in those words and you'll be treated to cute, unusual, and spectacular photos—a good way to get ideas for next year's All American Pet Photo Day.