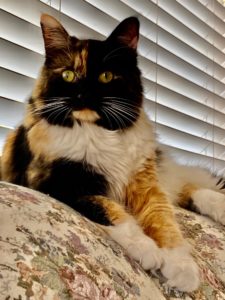 A friend, colleague, and fellow cat writer coined a phrase in an email over the weekend—a phrase that I wish I'd said. I'm preparing for a blog tour and the company who is helping me with that contacted Debbie de Louise about participating. She emailed me and said that her cat Sneaky would love to interview my cat, Olivia. I responded that would be great—Olivia has quite a lot to say. I then giggled to myself and added in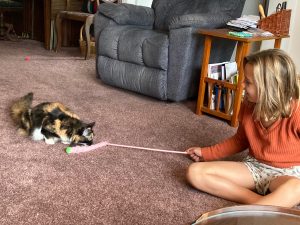 my email to Debbie, "I feel like a little girl playing dollies." I mean, I would never have thought I'd grow up to be arranging interviews for my cat.
This is when Debbie coined my new favorite quote: "Kitties bring out the kid in us."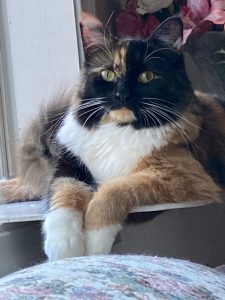 About the blog tour, I think it will be scheduled for some time in August. I'll most likely be writing articles for other cozy mystery and cat blogs, be interviewed, and respond to interviews with Olivia. There may be book reviews for "Oh! Olivia" and book giveaways. Some of you may remember some of my blog tours in the past when I launched the Klepto Cat Mysteries. Back then, I did all the legwork to organize the tours. Now there are companies and individuals who do it for you. All I have to do is show up and perform—oh my!
What fun have you had with your favorite cats, lately?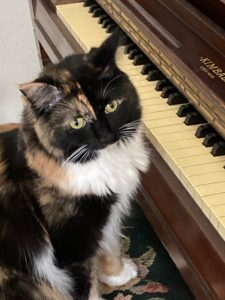 Olivia got to play with neighbors a couple of evenings ago. We're pleased with her socialization process. She is certainly interested in the people who now come into our house and wriggle a wand toy for her. Once she learns that they, too, have hands for petting, she might become Jell-O in those hands.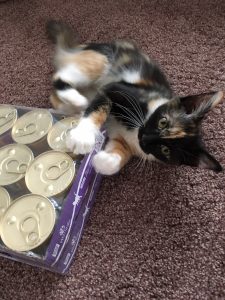 Yesterday my 10 month-old great-grands came for a romp at Nana's house and maybe a peek-a-boo at cat, but Sophie chose to watch the activity from under the sofa, and Olivia was nowhere to be found until they left. She missed out on some fun, however, Olivia likes to choose her time and place for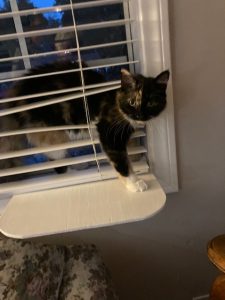 play.
I have to stop working at least once a day to play ball-chase with her. She's not a vocal cat—the vocalizing from her Siamese ancestry (which is a part of her makeup) doesn't come out except when she wants to play. When she wants to play, she's desperate to play—she can't stand seeing me at my computer she WANTS TO PLAY NOW!!! So we play for a while, then I go back to what I was doing and she takes a nap, or vice versa.
Do you and your cats have such rituals? Olivia and I would love to hear about them.