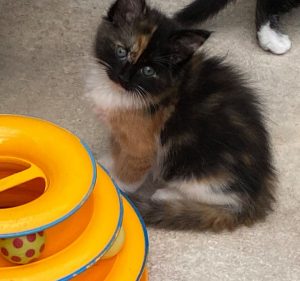 Okay, so this is day 5 of my "me" posts—all about me and my work. As you've learned, I have a fairly successful thing going with the Klepto Cat Mysteries and I'm having such a good time creating stories for Rags's fans. Why, especially at my age, would I even consider bringing out a new series, which most of you know I have done in recent months. Why? I was inspired.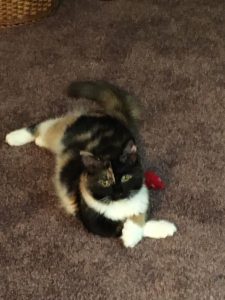 Olivia made me do it. Olivia was found living under a house with her siblings when she was a wee kitten. We first met her through her photograph—who could resist that cutie pie with that adorable head tilt? We had recently lost our precious Lily to kidney disease, and were ready to love another fur being.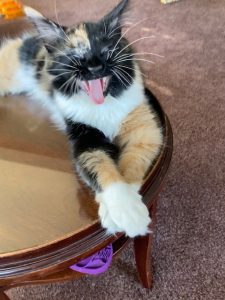 Olivia is such an interesting, creative, ultra-curious—almost eerily aware cat. She's just a year old now and is no longer tiny. She's 11 pounds of rough-and-tough, sweet and sassy fluff and we love her to pieces.
I began displaying photos of Olivia on my Facebook
page immediately upon bringing her home, and she has charmed my followers (now her followers). People enjoyed my stories of Olivia's antics—mishaps, shows of affection, and downright naughtiness. She's unique—but then each cat is. And the more time I spent with this delightful calico, the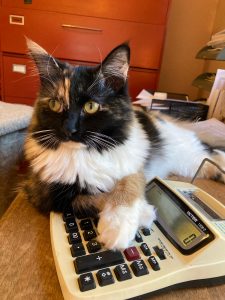 more inspired I became to capture her purrsonality on Facebook and in this blog. I found myself sharing bits and pieces from Olivia's repertoire of mischief in my Klepto Cat Mysteries. Then I got the idea (thank you, Olivia) to give her a cameo appearance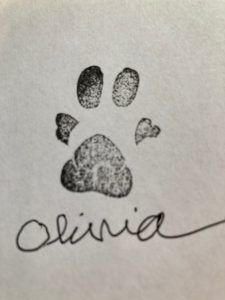 in a story. That was so much fun and so well received, that I took it a step further and YES, I wrote the first book in a new series featuring Olivia.
Oh! Olivia has piqued the interest of many—fans love her character and are asking for more. Spoiler Alert: Book Two—Where's Olivia, is in the works Oh yes, after the cliff-hanger at the end of Book One, I went right to work on Book Two.
Check out Olivia and her Calico Cat Mystery series at amazon, but also at our new Website: https://CalicoCatMysteries.com. Order print books from the site and you'll get the book autographed and pawtographed—yes, with Olivia's actual paw print. No worries, I'm not stepping her foot into ink. We took one paw print using nontoxic, child-proof ink mixture and a friend and fan carved a rubber stamp for us. Thank you, Claire!