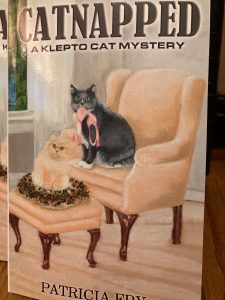 Finally I was ready to start writing. Eeeeeek, scary. Would I be able to pull it off? I had already put in decades as a nonfiction writer and author by then. And I'd never taken a course in writing—well, one creative writing course forty years earlier. I wrote a poem. That was creative. Now to the challenge of creating a valid, cohesive, entertaining, meaningful story. Yes, meaningful. It is important to me that I teach through my writing—even fiction. At my KleptoCatMysteries website I list 100 things you can learn from the Klepto Cat Mysteries. Some of the things are tangible, how-to-type things, others have to do with kindness, respect, how to treat people and animals. And fans do love my characters. Some say they'd like to sit down and get to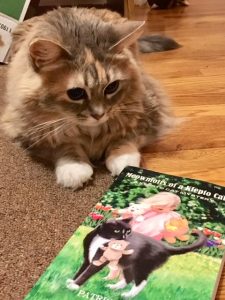 know some of them better over tea. Others say that reading my stories is like visiting with old friends.
My style is different—probably because I have not taken classes and I've never been much for reading fiction. My mother pointed out, "There's a lot of dialog." Yes, I guess there is. My stories are rather dialog-driven. And my cat characters do not talk, nor do they have a point of view. The stories are also human-driven with a lot of participation and contributions by the cats, of course.
My first book, Catnapped, was actually based loosely on a true story. Cats were being catnapped—what a great theme to go with for a cozy mystery with cats. And it worked. There are glimpses into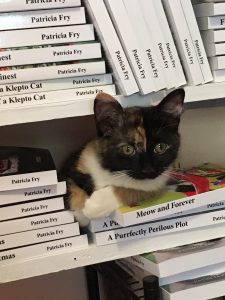 my life, thought process, and character values portrayed throughout all of the books. I don't know how an author can avoid that.
I'm convinced that my experience over the years writing nonfiction has been extremely useful in this new and surprisingly successful venture of mine. I notice that I bring many of the skills and concepts I learned over many years writing nonfiction to the table when I write fiction.
And how are the books selling? People—especially other writers—want to know. I'm selling between 3,000 and 4,000 copies each month—mostly the Kindle books. I publish each book in print as well for those who prefer holding a book or who want a nice gift for their favorite cat lover.
With this relative success, what are my plans for the future? There will be more Klepto Cat Mysteries. Book 52 just became a reality this week. I've also started a new series to produce alongside the Klepto Cat Mysteries. Most of you already know I just launched Book One of the Calico Cat Mysteries. That's a whole story, which I'll tell tomorrow. Stay posted.