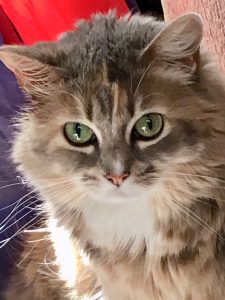 So I had my theme—Klepto Cat Mysteries. High five Lily! Now I needed a cat profile to play the part of the klepto cat. I thought about patterning the staring cat after Lily, but it just didn't feel right. Lily wasn't the right type. She was soft, sweet, quiet, snuggly, dependent, clingy… I needed a more confident, worldly cat for the staring role. After some thought, I decided to feature my mother's lanky grey-and-white cat, Smokey. He definitely had the purrsonality I was seeking and what a thrill for my, then, 90-year-old mother to read stories in books with her cat on the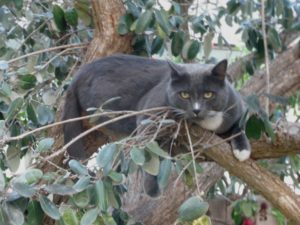 cover.
Like Smokey, Rags is half ragdoll, but he looks absolutely nothing like his mother, a ragdoll. Like Smokey, Rags is a confident, friendly, and curious cat. He has his naughty quirks and he just seems more enlightened than a lot of cats I've known. Certainly Smokey has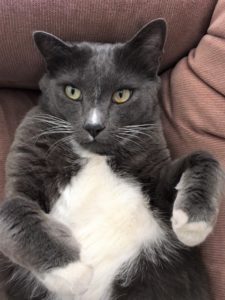 never done most of the things I attribute to his character, but I can see him doing some of those things if he had the opportunity.
When I first started writing the Klepto Cat Mystery stories, I constantly used Smokey and Lily, and other cats to flesh out some of the scenes. I observed the way the cats moved and reacted. I practiced describing their various expressions, stances, attitudes, and poses to use in stories. That was (and still is) one way I conduct
research for the Klepto Cat Mysteries. One thing I didn't do was read cozy mysteries with cats by other authors. I did not want to be influenced in any direction, especially when I started getting feedback from readers. Some tell me that my books are their absolute favorite among cozy mysteries. So I believe I'm doing okay with my brand of writing and developing stories for my series. Which brings us to the content of the stories. That's for tomorrow's post. (Pix Smokey in various poses.)