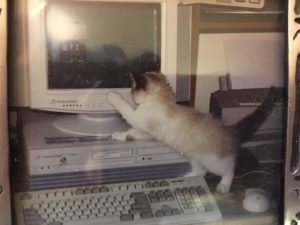 Okay, so the decision was made. I would write what I called light mysteries—fun, easy-reading, light-hearted mysteries. I'd been reading them and liked the feel-good feeling of having entered a world apart from my reality and being thoroughly entertained throughout the experience. I'm not much for hard-core, sappy, or fantasy fiction. I don't choose to read science fiction. I wanted to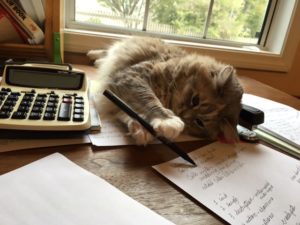 see if I could replicate the style of those "light" mysteries I'd been reading. But I needed a theme. Then I remembered something—another author I used to read. Lillian Jackson-Braun, wrote fiction featuring cats. I'm guessing she was at least one of the first to write sweet mysteries with cats. YES, I thought. Cats. I want cats in my stories.
Truth be told, I'm pretty sure it was with my current tabby, Lily's urging that this thought came to mind.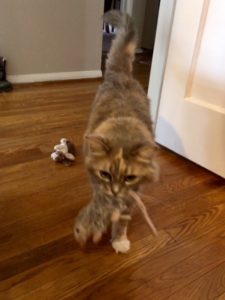 But is this already being done? Is there a market for light mysteries with cats, I wondered. By then I'd already joined the Cat Writers Association and I knew there was at least one writer who was emulating Ms. Jackson Braun's concept. Additional research showed that there were others and that these books were called, cozy mysteries. How cozy! But was there a market for them? Were they selling? Was there room for another cozy mystery with cats?
The answer seemed to be yes. Okay, that's it. I'd write cozy mysteries with cats. Additional research revealed several more cozy mysteries series with cats, and they all had themes. What would be my theme?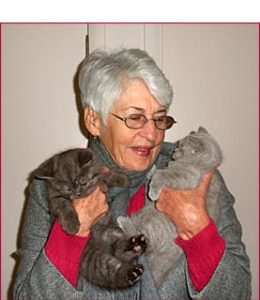 Believe it or not, a cat answered that question for me. My tabby cat, Lily, had a unique habit or behavior. She constantly brought me her toys and even my slipper socks. Could I create a cat character from Lily's quirk? I'd heard about cat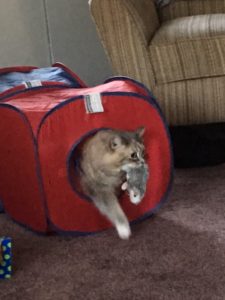 burglars—klepto cats. In fact I'd read of one in veterinarian, James Herriot's delightful books in the 1970s.  I always believed that if Lily had been allowed to run free outside, she probably would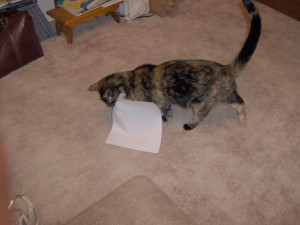 have brought us all sorts of trinkets and treasures from around the neighborhood—an interesting and fun concept.
The first thing you should do when you hit on a theme you want to write about is to find out if anyone else is already doing this. My research indicated that there was not, so now I had chosen my genre and theme. It was time to develop a cat character. But how? What qualities would the cat need? What kind of cat should I feature? Tomorrow I'll discuss how I chose my staring cat—no it wasn't Lily and I'll explain why.