I'm writing another story involving cats on the move, so I'm researching traveling cats. I'm interested in how far a cat can travel within a certain time when motivated to get from one place to another. How far might a cat roam from its home during a typical day's outing?
It was interesting to learn that cats can walk a distance of approximately seven or eight miles.
I enjoy looking at statistics and went in search of stories
about cats that had traveled long distances for one reason or another. And it appears that cats don't do much of anything without a reason.
There's the story of a 17-year-old cat, who traveled 300 miles to get back home, having to cross two rivers to get there—the Mississippi and the Red River.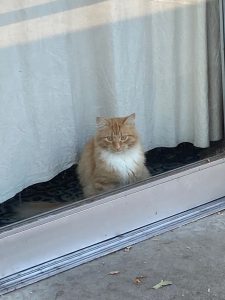 Persians seem to be good travelers. One Persian traveled for a year to find her humans who had moved. She walked (and maybe hitched rides) for a year to make the 1,200 trip to a place she'd never been.
Sugar, a part Persian is supposed to have taken a 14 month journey 1,500 miles to a place she'd never been and showed up on the doorstep of the family who had left her behind.
Our cats, like so many household pets these days, only dream of roaming the neighborhood and visiting friendly neighbors. I can see it in Olivia's eyes as she spends long periods just staring out the windows watching the world (and the birds) go by.