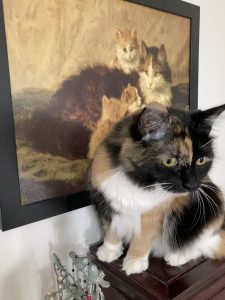 Is your cat artistic? Does she create designs on your furniture with her claws, organize her toys attractively (one balancing on top of another or on a tabletop next to one of your decorative pieces or in the way so you step on it at night–ouch!). Maybe she leaves swirls or clumps of her food in interesting shapes after eating. Our cats sometimes leave interesting designs in the litter box—heart shaped clump, for example. You never noticed? Maybe you're not paying close enough attention to their attempt at art.
I love the book, "Why Cats Paint: A Theory of Feline
Aesthetics," by Heather Busch and Burton Silver. The pictures of cats actually painting are wonderful. And the premise of cats actually having the ability to create what they see and know—fascinating. Some say cats paint images upside down.
Cats are a popular subject for art now and always. In fact many famous artists have created art depicting a cat during their career—Picasso and Renoir, for example. Some artists always or almost always painted cats.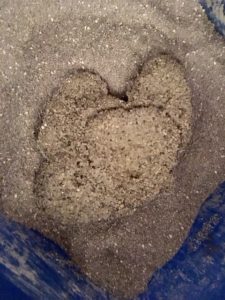 Henriette Ronner-Knip, for example.
So today I offer you a bit of culture. Here are two sites featuring cats in art. I thoroughly enjoyed my journey through these sites. I think you will too.
https://www.dailyartmagazine.com/15-cats-in-art/
https://theculturetrip.com/europe/france/paris/articles/top-10-cats-in-art/