I just received the cutest crocheted cat from a teenage niece who also creates a variety of other animals, including cows, also dolls, snowmen, etc. Yes, I collect cats—whether I want to or not. Definitely some of them I've bought or bartered for myself, like the antique tea pot shaped like a cat and the cat motif overnight bag I couldn't resist. But most of the pieces in my collection were gifts. In fact, I'm just now starting to call it a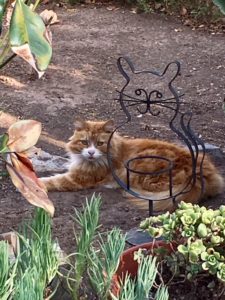 collection. I didn't realize how many cat things I had in my house until I started photographing Olivia. I look at the picture I've taken and I see cat pillows, throws, vases, books, hanging art, refrigerator magnets, photographs, statues, and jewelry in the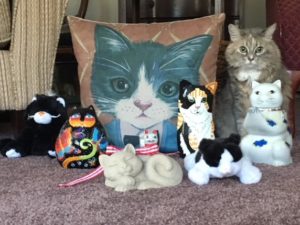 background. My mouse pad has cats on it, my calendars, my coffee mug, and some of my wall hangings. I even have a toilet brush holder shaped like a cat and a rolling pin with cats cut into it.
Yes, I collect cats. I had as many as 7 real cats once and I cared for four for a long time, but I've realized that two is more within my comfort zone, but I seem to overcompensate with stuffed cats, ceramic cats, baskets shaped like cats, cat sun catchers…
What's your most unusual piece of cat art or bric-a-brac?