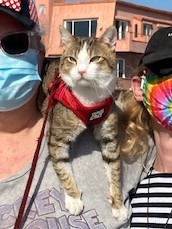 We've shared stories here of swimming cats and canoeing cats. My Klepto Cat Mysteries include stories of cats riding horses, hiking, and engaging in other outdoor activities. Just last week I watched a cat enjoying a day at the beach with his people. He was most interested in getting to know the resident seagulls.
If you're as fascinated by cats pursuing (and who seem to enjoy) human sports activities, you'll love reading the stories in this article and seeing the great pictures of cats active in outdoor sports with their humans.
Here, you'll meet Hokule'a, a surfing/swimming cat living in Hawaii; Gary, a daring cat
who seems to enjoy riding his owners shoulders while she ski's down the slopes. He even wears the latest in goggles and vest. Leon is into stand-up paddle boarding and camping out. He even has his own tiny tent. His owner says his harness hangs near the front door and Leon often tries to put it on himself when he's eager for an adventure.
This article also gives hints and tips for training your cat to be an adventure cat, but the author warns, this isn't for every cat, so certainly don't force the issue. If you believe your cat is up for such adventure, however, there are books to help you properly acclimate him or her. Here's the link. Enjoy: https://www.usatoday.com/story/travel/news/2021/02/22/adventure-cats-these-felines-love-surf-swim-and-hike/6769779002/
And be sure to check out #adventurecats on Instagram for hundreds of thousands of photos of cats enjoying various outdoor sports.