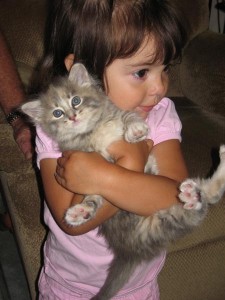 There's nothing quite as charming as a child with a kitten. I've witnessed this adorable connection numbers of times over the years—and I've also felt the stress of a poor kitten when the little one squeezes too hard, makes too much noise, moves to fast, and puts the kitten in precarious situations. But there's no denying it, most kittens are fascinated by small people.
We adopted Lily as a six or seven-week old kitten.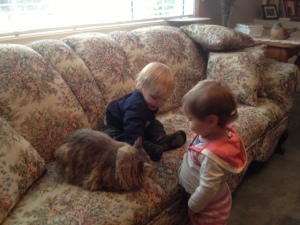 (They told us she was eight weeks.) Lily adored sitting on my desk watching the small children next door play. She'd hear their voices through the open window on a summer day and scramble to get to her spot on my desk so she could watch and listen.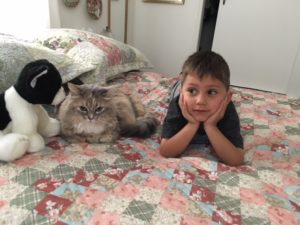 We regularly took care of a granddaughter when she was a toddler and Lily loved interacting with her. Wherever the child was, Lily was—under a tent, playing a game, stacking blocks, eating lunch, coloring. It was charming.
Most of our cats will run the other way when children come into the house, but Lily would navigate toward the little ones and want to interact. We shared a lot of lessons in those days to the children about how to behave and move around the kitten, how to hold her and so forth. To this day the children come here asking, "Where's the kitty?" Unfortunately, we no longer have a cat that understands or can tolerate children as we haven't been able to welcome children into the house for over a year. If they come to visit outside on our spacious deck, however, Olivia is usually at the sliding glass doors watching oh so curiously.