I'm excited about my new Cat-a-Day calendar. It's always fun to turn a page on a calendar. Once a month is nice. It's especially becoming quite a production to tell one month good bye and welcome a new one with anticipation. But to change the page every day with the sense that it's a new beginning—priceless. And when each page presents a new and different cat—way cool.
I want to share with you some of the great cat quotes I found while going through the 2021 calendar. This one by Joyce Carol Oates was actually on my December 30, 2020 page. "The wildcat is the 'real' cat, the soul of the domestic cat; unknowable to human beings, he yet exists inside our household pets, who have long ago
seduced us with their seemingly civilized ways."
Here are a few more you might enjoy: "The mathematical probability of a common cat doing exactly as it pleases is the one scientific absolute in this world." Lynn M. Osband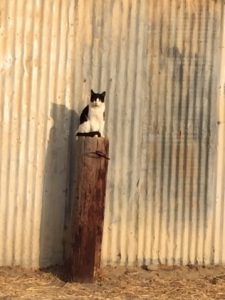 "The household cat is really a tiger that has undergone three counseling programs." Valeriu Butulescu
"A cat has a reputation to protect. If it had a halo, it would be worn cocked to one side." Will Durant
"Are cats strange animals or do they so resemble us that we find them curious as we do monkeys?" John Steinbeck.
You're welcome.