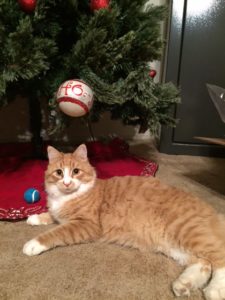 There are so many things about the holidays that can pose a danger to our cats. Indoor cats can slip out through an open door as people come and go. They might find a helping of food that could make them sick (or worse), or get a splintered chicken or turkey bone stuck in their throat. There are beautiful holiday plants that are poisonous to all pets (including poinsettias, lilies, amaryllis (which is a lily), and mistletoe), cords they might want to chew on, ribbon, tinsel and other traditional decorations that are not safe for cats. And if you have a young cat with that kitten energy, your tree and your decorations are probably in danger this year.
Before you buy a flocked Christmas tree, spray snow on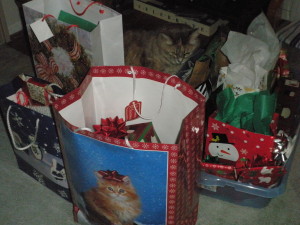 it yourself, add icicles or angel hair, or mix a chemical into your tree water to make it last longer, follow the links I've provided and read  the articles. Heck, the tree itself can make a cat or kitten sick if they eat the needles.
We have a cat that eats ribbon. We knew she would swallow strips of ribbon, so we stopped using the curly ribbon and the satin or any other kind of ribbon and went to just metallic bows. A few Christmases ago, we woke up to a puddle of blood on the floor—a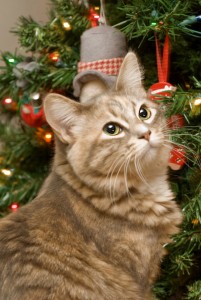 large puddle. We learned later that Sophie had been chewing on those bows and evidently the sharp edges of the bows had cut her throat up pretty badly and maybe her stomach. She survived, but wow what a scare. So there are no bows or ribbon on our packages anymore. Boring, but they stack nicely for traveling, etc. Also beware of cats getting caught up in the handles on gift bags. We had a scary experience with a kitten who found out that danger the hard way.
We've also learned not to leave chocolate brownies or
fudge anywhere that a cat could find it. We had a Himalayan once who was attracted to chocolate. Not good.
And if you are attached to your cat's whiskers—she certainly is—do not burn candles around cats. We've switched to battery operated candles. You can even buy those with rotating (fake) flames giving the appearance of flickering. Here are two articles—one about the dangers of Christmas for cats and one about Christmas tree dangers.
https://www.veryimportantpets.co.uk/2019/christmas-dangers-for-cats/
https://www.catster.com/lifestyle/kitty-christmas-tree-dangers