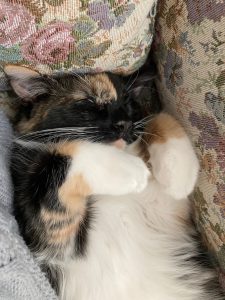 What's cuter than a cat napping? For the last two years I've bought day planners with adorable photos of napping cats on the pages. I smile each time I turn a page and see the napping cat of the week. Gosh they're cute. I'll bet you have some sweet photos of your cat napping. I sure do—too many to share in this space. In fact, I could make my own calendar or photo book of cute cats sleeping. They do it so well, don't they?
I mean one minute Olivia's awake and the next she can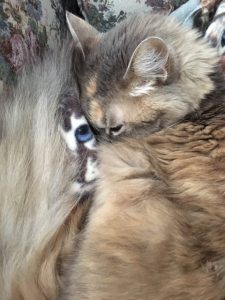 be sound asleep. Are cats narcoleptic? Or are they just more at peace and relaxed than we are? Cats can go from a sound sleep to wide awake faster than the speed of light. Again, that's unlike any human I know. If we're roused out of a sound sleep by something alarming, we don't have our wits about us. If we land on our feet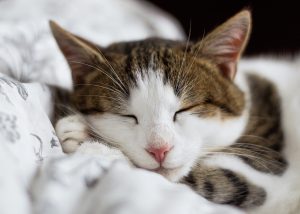 (which is doubtful), we might flounder and even fall while trying to figure out where we are, what happened, and why we're suddenly lying half naked across the coffee table. Yeah, you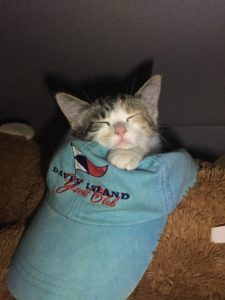 don't see cats making such fools of themselves.
Although a cat will have an occasional accident it's one they rarely repeat, even for a photo opp—especially for a photo opp. I wish I'd been prepared to snap a picture of Olivia the day she rolled off my desk into the trash can.
So how many photos do you have of your cat sleeping? I have dozens, at least and I'm still snapping them.