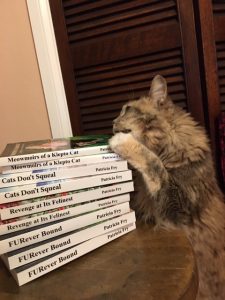 I've done some reading this year—we've all had time to read, haven't we? And it appears that isn't going to change anytime soon. This week I found the sweetest book in the advent basket my daughters filled for me. It's Spirit of Animals by Sylvia Browne and Chris Dufresne. I actually sat in on one of Sylvia Browne's programs in LA many years ago, so was pleased to receive this. It's a wonderful hardcover gift book that gives insight into the afterlife where our precious pets are concerned. It answers the question, "Will I see my beloved pet again once she has passed." True or not, it is a comforting book with beautiful photos. Very well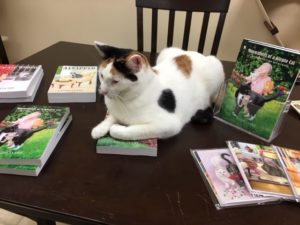 done.
I read Jeffyne Telson's book, More Cat Tails: My Journey from RESQCATS to God's Little People earlier this year and loved it. It's a wonderful story of a woman's lifelong love of cats and her incredible opportunity to work with an island of cats in Greece. Quite a story. But then, I know Jeffyne, and she's quite a woman.
Then there's The Cat The Changed America. This is the story of the cougars living in Griffith Park with nowhere to go since the building of two major and majorly dangerous freeways between their home and where they used to roam. Too many of these beautiful creatures have been killed trying to cross the freeways and there is a plan in motion to raise enough funds to build a bridge for them. This book is part of a large fundraiser effort toward making that bridge a reality.
This story is intended for children. I can't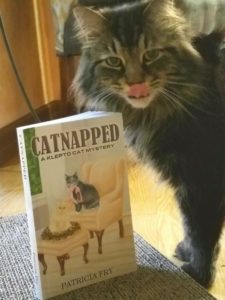 recommend it because I haven't read it yet.
Here's another book I haven't read, but hope to soon. It's on my Christmas gift list: A Cat's Tale; A Journey Through History by Dr. Paul Koudounaris and Baba the cat. The description says in part that, "Today, cats are peddled on social media as silly creatures here to amuse humans with their antics. But this is an absurd, self-centered fantasy. The true history of felines is one of heroism, love, tragedy, sacrifice, and gravitas. Not entirely convinced? Well, get ready, because Baba the Cat is here to set the record straight." Yes, it sounds lively and fun and probably has a smidge of truth to it, too.