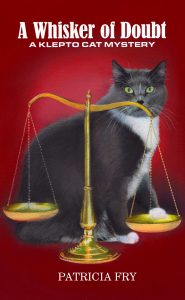 I'm happy to announce publication of a new Klepto Cat Mystery. And this one is even more special than most as it's my 90th published book. Ninety books published over a nearly 50-year career. That's almost two published books a year.
How do I plan to celebrate? Probably by sitting at the computer, Olivia and maybe Sophie at my side, while I map out my latest Klepto Cat Mystery.
The new one is A Whisker of Doubt. In this story, it's all cats on deck in order to solve a six-year-old crime. A guest at a surprise birthday party renews Detective Craig's faith and enthusiasm for proving a dear relative's innocence. Of course Savannah and Rags are called to action and they use unprecedented methods in their investigation with stunning results. There's a lot of fur-flying in this spirited story because the truth hinges on what the cats have to say.
Meanwhile, Savannah is caught up in a lost-cat drama when she unknowingly returns the beautiful Himalayan they found to the wrong person. She and Rags shift into high gear in a desperate attempt to reunite the cat with the people who love him before it's too late.
The print book is available. The kindle version will follow likely before Thanksgiving.