Okay, I'm probably going to describe you when I suggest that you have more photos of your cat than anyone or anything else in your phone.
If you have a cat on your lap and you have to pee—you're apt to hold off because you don't want to disturb the cat.
You wash your hands after petting someone else's cat so the scent of another cat doesn't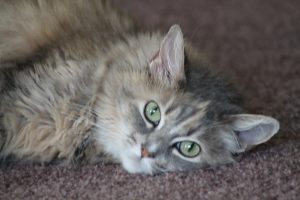 offend your cat.
You often leave the bathroom door open—in case your cat is looking for you.
You apologize to the cat when you have to leave the house.
You're constantly talking to your cat.
You are reluctant to move a sleeping cat.
I passed the test—yes, I'm actually a crazy cat lady. If you're still not sure, visit this site to read more of the telltale signs.
https://welovecatsandkittens.com/cat-pictures/20-signs-youre-crazy-cat-parent/