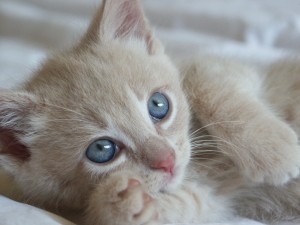 Don't you just love kittens? This is Catalina. I had the privilege of meeting her a few years ago when my friend, Karen Stevens (founder of All For Animals) was fostering the litter. Of course, I showed up camera in hand. Fortunately, Catalina and her siblings all found good homes and are currently gracing the sofas, windowsills, comforters and love seats of their permanent dwellings.
Catalina is just one of millions of throw-away kitties—that is, cats and kittens that have been abandoned or neglected. Some cats and kittens are homeless for so long that they return to a wild state and become known as feral. Thankfully, Catalina and most of the throw-away and feral cats and kittens that appear in the illustrated version of Catscapades, Tales of Ordinary and Extraordinary Cats were rescued by kind-hearted humans. A few of them remain in managed cat colonies.
Be sure to read the section on Throw-Away Cats in Catscapades, Tales of Ordinary and Extraordinary Cats. There, you'll read the memoirs of a colony cat; stories of Max, the woodpile kitten; Sophie's rags to riches story; the challenges and successes involved with socializing Fabulous Greta; Cassidy, the once forgotten cat who inspired a humane animal organization and the secret life of a neighborhood feral (yes, there is a happy ending). I've also included vignettes of several other throw-away cats, including one wannabe colony cat who was actually a perfectly loved housecat.
Some abandoned and neglected cats and kittens show up on the doorsteps of libraries or storefronts and become working cats. By now, most of the cat-loving world has heard of Dewey, the world's most famous library cat. I had the privilege of interviewing Dewey for a magazine article while he was still overseeing the Spencer Public Library in Iowa.
In case you're curious, other story sections in Catscapades, Tales of Ordinary and Extraordinary Cats include: My Cat, My Teacher; Kitty Cat Rescue; Adventuring Cats; Heroic Cats; Uncat-like Behavior in Cats; Catty Communication (my favorite section); Cats as Companions; Healing Cats; Library Cats; Working Class Cats and Cats Over the Rainbow Bridge.
This book covers 30 stories and dozens of vignettes all featuring curious, silly, fortunate, clever and delightful cats and kittens and it's illustrated by 80 kitty photos. Order your copy of Catscapades, Tales of Ordinary and Extraordinary Cats at http://www.matilijapress.com/catscapades.html. It's $14.00 for the print (comb-bound) version and $10 for the ebook.