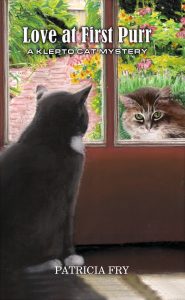 Some of my Klepto Cat Mystery books are more heart-tugging than others and Book 45, Love at First Purr is getting some fabulous reader reviews. Check this one out:
"Another 100+ stars for this book!  I just could
NOT put it down! I totally fell in love with Lizzie,
the kitten, and wish Savannah could have kept
her. But it all ended extremely well. The ending
in this book brought tears to my eyes. An
absolutely phenomenal read!!! This series is
definitely one of my favorites. I truly love Rags!!!"
So far this book, my latest, has earned eleven 5-star reviews.
Fans other favorites include the Christmas books: "A Picture Purrfect Christmas," "A Christmas to Purr About," and "A Very Meowy Christmas." I guess people who adore cozy mysteries really like stories with a lot of touching emotion. My readers want to laugh and they want to cry happy tears. They love Rags and I love Rags's fans.
If you haven't read Love at First Purr, it's available in print and for your ereader at amazon.com. You can purchase autographed copies at my website: http://www.kleptocatmysteries.com.