How many days have we been under house arrest now—I mean, safe at home? I guess it's different for each state and community. Some states still don't have the mandate (or even the suggestion) to stay at home when at all possible. For me, it's day 45 because I was sick for 3 weeks before the virus interrupted our life.
If you're like me and those I've talked to, you have
probably gone through several emotions with regard to this—eager to get back to your life, antsy or angry, wondering when this sequestering will end, and then perhaps reluctant or calm acceptance. As I wrote in a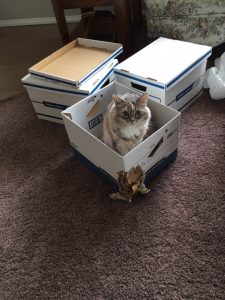 post last week, the only ones who are truly enjoying this new (temporary) way of life are our pets. We could take a lesson from them, don't you think so?
You may have already established some new rituals and activities with your cats and dogs. Many dogs are getting walked more often than usual. Those pets who love, love, love to eat, may be getting more food treats because we're home and cooking and eating more, so they're in the kitchen, begging, and probably eating more.
Our cats are cuddling more. And Lily is dragging out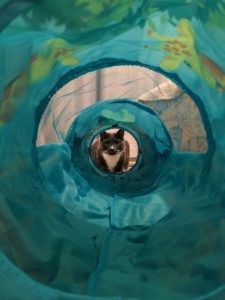 more of my socks, slippers, and other items of clothing. (Probably because I'm not putting things away as promptly—I mean those days of drop-in visitors is over, right?)
If you and your pet are starting to get a little cranky or bored, maybe it's time to get creative. Get off the couch and have a little fun with your pet. This might be a good time to catch up with your cat's or dog's grooming tasks. It's spring, after all. Comb out her shedding winter coat before it tangles with new fur and creates mats. While you're at it, if appropriate, trim her nails.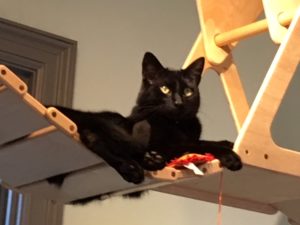 Maybe you've thought for years about building your cat a catio. Now might be a good time to do it—that is if you or someone else in the household has at least some skill with a hammer and nails.
Create a cardboard jungle for your cat using all of those boxes Amazon delivers to your house, lately. Tip: Let the boxes sit outside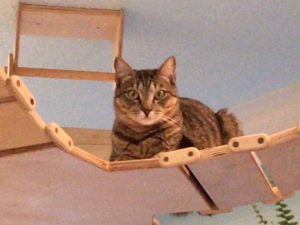 in the sun for 24 hours or so before bringing them into your house. Cut windows and doors in the boxes and stack them to create the fort or castle of your cat's dreams.
Fill a box with shredded paper and hide treats in there.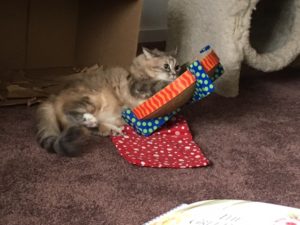 Teach your cat a trick. Don't know how? The Internet is full of interesting ways to do this.
Pull toys from the bottom of her toybox so she thinks she's getting something new to play with. Make her a new toy. There are several sites showing how to make interesting dog toys. Here's one with ideas for making cat toys. https://www.onecrazyhouse.com/easy-diy-cat-toys/
Order toys over the Internet.
Here are a couple of sites with additional ideas for providing enrichment and creating bonding activities for you and your cat during these unusual times. Now go have some fun with your cat (or dog). https://petwelfare.org.au/2017/07/05/enrichment-activities-cats/
https://lifeandcats.com/enrichment-for-cats/