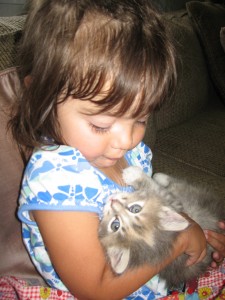 Cats have a tendency to rise above any commotion, unless they sense that it's safer to tunnel in. If the commotion is caused by crawlers or toddlers, they climb. If the sound seems to be all around them or they aren't sure what it is—as in thunder, the garbage truck outside the window, etc., they may go under the bed.
Lily has always liked children. One of her best friends, when she was a kitten, was a toddler. They learned together how to get along. The toddler is now nearly seven-years-old and has a couple of her own cats and she knows how to treat them.
When her favorite little person wasn't around, Lily kitten often sat at the window and watched neighborhood kids play. To this day, when guests arrive, she isn't particularly interested, unless a child is among them.
Here are a couple of sites with some charming photos of cats and kids: http://images.search.yahoo.com/search/images?_adv_prop=image&fr=ytff1-gl-gen1&va=cats+and+kids
http://video.search.yahoo.com/search/video?p=cats+and+kids
If you enjoy cats in your mystery stories, be sure to read Catnapped, the first in my Klepto Cat Mystery series and the brand new release, Cat-Eye Witness. Both are on Kindle at Amazon.com