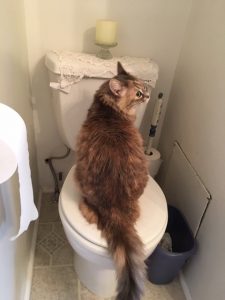 Fans will be happy to know that I'm halfway through the writing of Book 42. This is not to say it is half finished—far from it. I'm just now creating a storyline. Next I have to make it work—work out the details and wrinkles, edit, edit, then edit some more. Then I'll turn it over to my beta reader and proofreader/editor. Then it still isn't ready for you. I'll edit another time or two or six. When I'm satisfied, I'll turn the book over to my formatter and read it through another time or two on paper. You can't imagine how much you see when you shift from manuscript form to the printed page—from the computer screen to paper. Things pop out that you didn't even notice before.
Amidst all of this back and forth and re-reading, I'll be working with the cover designer.
We've already been talking and I'm excited about the premise of combining cats with antiques on this cover. Sound intriguing?
In 2019 I produced eight new Klepto Cat Mysteries. That's my unintentional record. But still I'm not producing fast enough for some fans. You folks read too fast!!!! This year I expect to publish something below that number as I'm also working diligently to revise some of the earlier books. To date, I've revised and republished Books 1 though 4. Now that's a process. I didn't expect it to be so time-consuming. But I feel it is necessary, and I'm pleased with the results.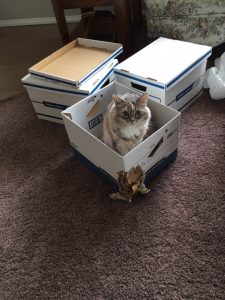 As I said, I'm taking time away from that project to work on a new book for you, but my hope is to revise all of the books through 28 as we changed the formatting for Book 29 (print) and I'd like to rework all of the previous print books to conform to the more attractive and readable format. Along with the format improvement, I will do either a little or a lot of revising—whatever each individual book needs. I envision that taking me a few years to complete because I want to continue bringing out new books for you as we go along.
So what's happening in the Klepto Cat Mystery factory? We're keeping busy. So keep reading. And consider purchasing the first four newly revised books and rereading them. I think you'll be pleased.
What are the resident cats doing in the meantime? Just hanging out, as you can see.