Have you ever heard of a cat with PTSD? When you consider the stress homeless, neglected, and abused cats are under day in and day out, it's not hard to imagine that their constant fear could affect their bodies and their psyche. But some cats have a higher stress level than others. Even well-loved and protected cats can suffer from anxiety.
I read last week that the office cat working at the
Foreign Affairs building on King Charles Street in the UK is back to work after a lengthy stress leave. Yes, stress leave. The black-and-white cat had been working there for four years after being rescued from a local cat shelter. But about six months ago, his veterinarian suggested he take a stress leave. He was overweight and he was over-grooming—most notably licking the fur off of his front legs.
After a six month leave, Palmerston is back—this time with a smaller territory to manage (sometimes a cat can be overwhelmed when his space is too large), and orders to the rest of the staff not to engage him without his permission. Too much attention can cause anxiety in some cats. Palmerston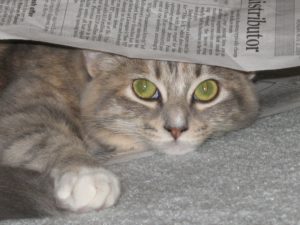 was also overweight, so his coworkers have been asked to stop giving him treats. His chief caregiver announced into the building when he returned with the cat, "Watch out, mice, Palmerston is back."
Our cat, Sophie suffered from PTSD after the Thomas Fire burned through the Ojai Valley exactly two years ago. We were one of many neighborhoods required to evacuate. Sophie was not a happy kitty. We returned
to our home safely, but a month later or so we noticed that Sophie was losing fur on one hip. The veterinarian's first question was about Sophie's evacuation experience during the fire.
I told her that Sophie was not a happy camper, but nothing awful happened to her or Lily. We kept them safe. Her diagnosis, though, was PTSD. The trauma of the car ride and two nights in a strange place had affected Sophie more than we realized.
Max, our formerly feral snow-shoe-type cat urinated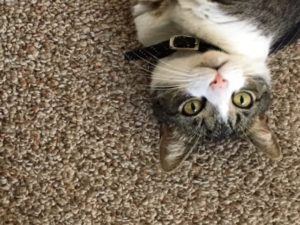 outside the litter box often over his seventeen years with us. I know it was behavioral—perhaps a territorial thing—but now I'm wondering if it was also a case of lifelong PTSD. Maybe he just never got over the trauma of being plucked from his safe place in our wood shed from his mother. We "rescued" the kittens. While Max's sisters adjusted nicely and while Max certainly learned to be somewhat content with us (he loved a good snuggle session), he must have had an underlying measure of PTSD and couldn't help leaving his mark around the house.
I think I still have PTSD from Max's behavior. But I also miss the sweet old boy.
If your cat is engaging in unusual behavior—over-grooming, poor or obnoxious litter box habits, a seemingly unnatural fear, it could be that he is suffering from stress. Here's a site where you can learn more about PTSD in cats.
https://paws-and-effect.com/can-cats-get-ptsd/