Thanksgiving is for giving thanks and feasting. While you may have the desire to include your household cats in the joy of feasting on this day, remember that there are foods cats should not eat and some that are downright dangerous for them. Green beans, peas, pumpkin, and carrots, for example, are okay for cats to nibble on if they want to, but not if these dishes are seasoned with onions, garlic, salt and pepper, sugar, and a lot of butter. Gravy is not good for cats, neither is ham. The stuffing you love will probably not appeal to your cat and that's a good thing because it's generally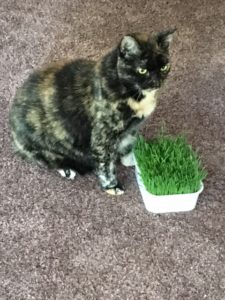 filled with onions and other seasonings your cat shouldn't eat. Don't even think about letting her lick up some of the chocolate cream pie from the platter. Even turkey, I'm told, isn't something cats should be allowed to pig out on.
So if you want to share Thanksgiving with your cat, the best way to do so is to open a can of their cat food and spread it on a China plate placed on a doily. You can even push a stool up to the table, if you want to, so he can join you. Sounds silly, but it sure beats allowing your cat to eat from your plate.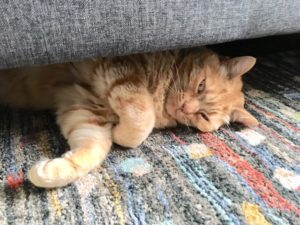 Here's a site with more information about what Thanksgiving treats you should and should not give to your cat. http://thepawzlab.com/pets-wellness/10-thanksgiving-foods-cat-should-not-eat
If your cat is like many, she will not be one iota interested in socializing with all of the noisy guests—especially the rowdy children. So allow him to hang out in his comfort zone—under the bed, in a closet, safely away from people. Monitor the doors as people go in and out to make sure they aren't left open. Do not leave lighted candles unattended or the food that might be toxic to cats. Also, make sure your cat doesn't have access to the turkey carcass. A trip to the vet to remove a bone from your cat's throat could ruin a beautiful Thanksgiving day (and night) for everyone.
Happy Thanksgiving from my human and feline family to yours.