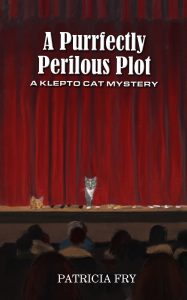 It's Book 39 of the Klepto Cat Mystery series. It's book 7 published this year—a record for us. And yes, Book 40 is in the works.
I know you become anxious for the next story—you write and post and tell me that all the time. I'm working as fast as I can. But if you can't stand the Rags craving, my suggestion is to start reading the series again from Book 1. I know that some of you have done this and enjoyed it very much. I spoke with one fan who has read the series through three times.
Here's a description of Book 39,  A Purrfectly Perilous Plot.
The klepto cat takes center stage and works a little magic.
Rags is invited to help rehearse a murder. The community is shocked when fiction becomes a gruesome reality and a key feline witness goes missing. Leave it to Rags to uncover crucial clues that prevent this from being a perfect crime. Rags is on a roll when he performs on stage in San Francisco. He gets more snickers than rave reviews, but he's applauded for pawing the culprit in a very real embezzlement scam. Without missing a beat, Rags goes on to help reform a troubled friend who's about to become a terrorist and he helps save the spirit of a dear old man. A lovely cat's life is saved as well, when the Iveys, with Rags's blessings, adopt a special-needs cat.
A Purrfectly Perilous Plot, available at Amazon.com NOW