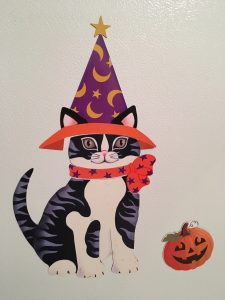 How did the cat became part of the Halloween theme? Perhaps by association—their association with witches?
It's rather quaint to be able to decorate for Halloween with black cat motif. You can see that I do. And I buy Halloween cards for the great-grandkids with cute black cats on them. And sometimes the black cat is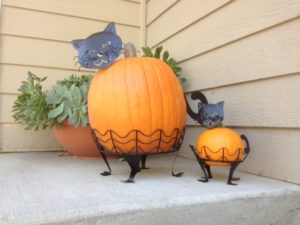 accompanied by a freaky or cute witch character.
This Halloween be sure to watch out for your cats—all those cute goblins and ghosts running through the neighborhood can give them a fright. When you open the door to hand out candy treats, the cats can become disoriented and dart outside, or become frightened and stressed. Let's help our kitty-cats through another scary evening, the fourth of July fireworks will be popping and cracking sooner than we think and we'll have another period of fright for our sweet kitties.