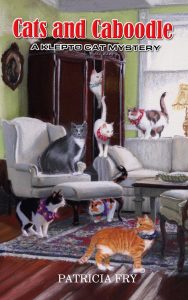 No I'm not here to blog about some crazy mathematic equation today. These numbers relate to an accomplishment of mine—actually two accomplishments. I just published my 79th book after just turning 79 years old. I don't know if we need a moment of silence here or a round of cheers. I'll accept either.
The 79th book is the 37th in the Klepto Cat Mystery series, which I began writing 7 years ago. Did you notice all the 7s in that statistic? Number 37 is a fun story about too many cats. Here's the description for Cats and Caboodle.
Rags wears many hats in this action-packed mystery.
While he bravely serves as a therapy cat for street pets and helps to heal a potentially dangerous family issue, Rags's most important role in this story is untangling a messy cat mystery. Cats seem to be coming out of the woodwork at the Kaiser Inn. No one knows where they're coming from or where they're going. Even Caroline, the cat psychic, is puzzled, until the circus comes to town. Follow along with this fascinating tale and thrill at all the CATfusion and kitty-cat fun.
The print version is available at Amazon.com and the ebook will follow probably in ten days or two weeks.
Don't you love the cover? It's another Bernadette Kazmarski original!