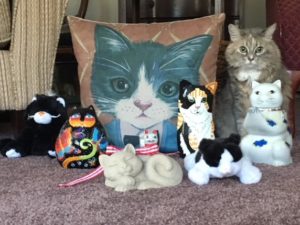 What's your most unusual cat replica—you know something useful or decorative that's shaped like a cat or has a cat on it? Do people give you cat-related gifts? Do you buy clothing and knick-knacks depicting cats or with a cat motif? Is your house full of kitty-cat pillows, slippers, plates, trays, plaques, etc? Do you wear cat motif jewelry, clothes, shoes, hats, and display books with great cat covers?
If you've followed this blog for any length of time, you know that I'm a collector—partly of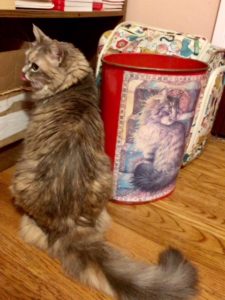 my own choice, but mostly because my friends and family somehow have pegged me as a cat-woman. However did they ever get that idea? Because my life-long passion for writing is now all about cats? Because I always have one or more cats in my home, because I love photographing them and visiting them? I always look for the resident cat when I visit someone with a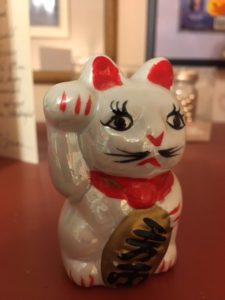 cat. Just last week I was at a potluck at a new friend's home and she immediately asked if I'd like to meet her cat who had been sequestered to his room for his safety during the gathering. Of course, I said yes and I was able to wish Harry (or it might have been Hairy) a happy 14th birthday.
So what's your most unusual cat item? I tried to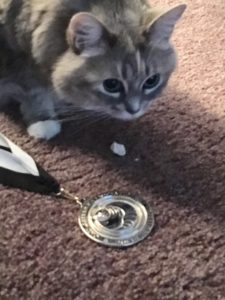 determine mine. I'd say it's between my cat measuring cups, my rolling pin with a cat pattern (can you believe that?), or my cat trash receptacle (trash goes into the cat's mouth). Just yesterday a friend gave me a belated birthday gift and among the goodies was a package of bag ties with a cat motif. Talk about laugh-worthy—these are little cat faces and the tongue wraps around the bag. Hilarious. And one of my most valued cat item (aside from my cats) is the Muse Medallion I won at the Cat Writers Conference last year for this blog. I also have a collection of Certificates of Excellence for my cat books, articles, and this blog.