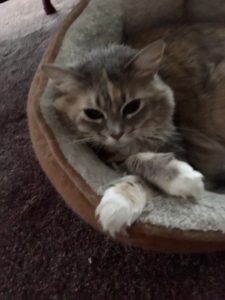 The reviews for Book 36, A Whisker of Truth keep rolling in. So far they're all five-star reviews saying, "This is the best one so far!" "I stayed up all night reading—couldn't put it down." "This is one of my favorite series." Makes me so happy!!!!
So what's happening now? I have finished Book 37 and it's with the editor. I estimate that we'll have the print version of this book ready for you by mid August and the Kindle will follow. This book features a lot of cats and that's where the mystery comes in. Where are these cats coming from and where are they going? It's a convoluted case that takes a psychic, a detective, a cat trainer, a construction worker, and, of course, Rags, to figure out. If you like a lot of cattitude and cat purrsonality—oh yes and another puzzling mystery running alongside this, you'll enjoy Book 37—Cats and Caboodle.
While Book 37 is with the editor, I'm fast at work on Book 38. This one involves a thrilling surprise.