I started my journey into fiction-writing seven years ago and took my mother's cat, Smokey and my sweet tabby, Lily, with me. And what a journey it's been. Yesterday I sent Book 36 of the Klepto Cat Mystery series to the editor for polishing. If we stay on schedule, you could have this book—A Whisker of Truth—in your hands by the end of July. And yes, I'm fast at work on Book 37.
Why can't I get the books to you at a faster rate? Hey guys, how many authors do you know who produces six books a year? That fact alone is pretty remarkable, don't you think so? And I've managed this through all sorts of real life issues—both happy and stressful. In my world, life may take some twists and turns, but my writing remains fairly steady. And those of you who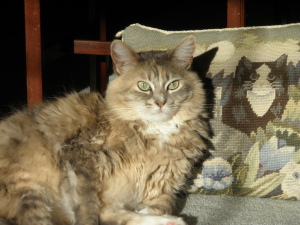 are enjoying my efforts will be pleased to know I don't expect to slow down any time soon.
What keeps me going? To a large degree it's you—Rags's fans. So thank you from the bottom of my heart for allowing me, in fact for encouraging me, to keep on writing.
How many of you are all caught up with the series—you've read or are reading Book 35? I've heard from some readers who have read the whole series twice. I love hearing that and I love reading my reviews.
Here's a bit of trivia—interesting, maybe, only to you and me: The last 5 books have garnered ALL 5-star reviews at Amazon.com