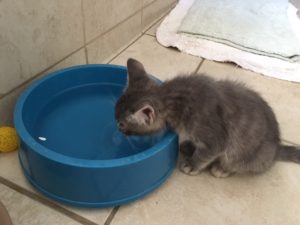 Do you think cats and water don't mix? Well, some cats beg to differ. There are cats that actually like going for a swim once in a while—or often. And some cats are just curious and fascinated about water. Here's a fun video showing cats in water. https://www.youtube.com/watch?v=SP5RYYK3LaY
While any cat can develop a liking for water,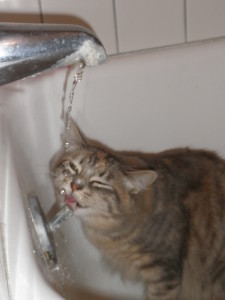 some breeds are more inclined to go for a swim. That would be the Abyssinian, American Bobtail, Manx, Bengal, Maine coon, Norwegian forest cat, Turkish Angora, and Turkish Van.
Here are more swimmingly adorable cats swimming. https://theverybesttop10.com/cats-swimming/
Have you ever wished you could close your eyes and listen to one of my books, as opposed to reading it on your Kindle or as a print book? I heard from a fan yesterday who says she listens to the Klepto Cat Mysteries on her Kindle Fire. I was fascinated by this bit of news and did some research—when it went nowhere, I contacted my amazing web-master/Kindle formatter/trouble shooter and very good friend and she gave me this link to what's called text-to-speech. Check it out! https://www.amazon.com/gp/help/customer/display.html?nodeId=201730270