Book 33 of the Klepto Cat Mystery series, The Secret Claws is selling like crazy; book 34 FURever Friends is in the final editing stages; and I've just about finished fleshing out the details of another intriguing story. I'm really excited about these last two. Look for Book 34 around the end of March and Book 35, perhaps in June.
Winner Announcement
This morning Lily chose the winner of the latest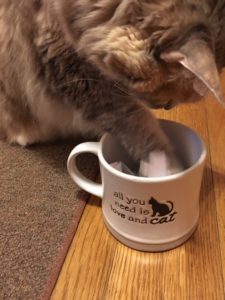 contest. Congratulations to the lucky winner: Edith Brunner wins a FREE book of her choice either print (if sent to a US address) or Kindle. Thank you all for responding to my burning question—"What is your favorite book in the Klepto Cat Mystery series?" Some of you responded on Facebook and some emailed me directly. The most popular book, it seems, is Catnapped, the first in the series. Readers say that is because Catnapped got them involved in the series and it was the book that set the scene and the tone for all the others. Other faves are A Picture Purrfect Christmas (Book 13), Mansion of Meows, Cattywampus Travels. But most who responded listed "All of them."
Presentation on Fiction-Writing With Cats
In the meantime, three colleagues and myself are preparing to present a panel discussion at the 25th annual Cat Writers Association (CWA) conference in St. Louis in May. Oh, and I've entered some of my books in the highly competitive CWA contest. The awards ceremony takes place at the conference and it's quite an event—sparkle sparkle.
I've been gathering my catty-est outfits and I've already packed my cat ears. Yes, we really do make this event all about cats. Some members even bring their cats. Well, they don't want to miss the red carpet show. Interestingly, while the humans are planning their wardrobe around cat ears, sweaters embroidered with cats, cat motif leggings, and all, the cats will dress in human clothes—bow ties, little dresses, tiaras, glasses…
Lily and Sophie will not be attending this event, but I'll bring back lots of photos of their kind for them to enjoy. I'm sure they'll be a little "catty" about some of these cats' outfits, but that's okay. It's what a cat does and this event is all about cats.
Putting aside the frivolity of it, we're also there to learn how to be better cat parents, shelter owners, advocates for cats through our writing and speaking and volunteering, cat rescuers, colony managers, etc., by attending sessions on cat care, behavior, health issues, and more. I'm also looking forward to the pet photography workshop. I learned a lot in a similar session last year.
If you work with cats or simply enjoy cats as pets and you write about cats or would like to, be a part of our organization, learn more here: http://www.catwriters.com