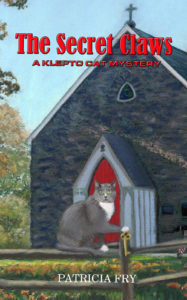 We've been scrambling to bring you Book 33 in the Klepto Cat Mystery series, The Secret Claws. This will be my first book of 2019 and my 75th published book!
After two months of work—encompassing approximately 500 hours of creating, writing and massaging the story and another 50 hours preparing it for publication, it should be ready for your reading pleasure within the next few days.
As you may recall, the print version arrives ahead of the Kindle version. Watch for my announcements.
In this story, Rags knows no bounds. The Ivey and Pettit families look forward to spending their last vacation days together relaxing at a mountain cabin, but Rags has other ideas. It doesn't take him long to change the flow of events and everyone's plans. Rags unveils a secret and immediately involves his humans in a whirlwind of intrigue. While everyone looks forward to an exciting program at the church among the pines where certain mysteries will be explained, the unruly cat goes missing. He puts Savannah and Detective Craig in danger, he causes a near forest fire, but it's because of Rags that the show goes on and the mischievous cat becomes the star. However, before he can be celebrated, he is taken and held for ransom. What happens next stuns the entire community. Will Rags live to appear in another Klepto Cat Mystery?