Good news for those of you who can't wait for the next book in the series. We should have Book 33 of the Klepto Cat Mysteries in your hands by the first of next month. Yes, within the next ten days. It will take a little longer to complete the formatting for the Kindle version. Hey, you can consider this one your Valentine's read from me.
Of course, we're always working to bring you an
interesting, and sometimes exciting and amusing and touching story. I trust this one won't disappoint. I have to say that Rags certainly steps into his role as a creative, sometimes incorrigibly naughty and exasperating cat in this story, causing his human family and friends as well as some bad guys a peck of trouble. Yeah, just the way you like Rags, right? He's the kind of feline character you love to follow. Maybe
you can tell that I get a kick out of nudging his character off the beaten path in order to generate a tad of discord and trauma here and there, as well as sweet and tender moments. You'll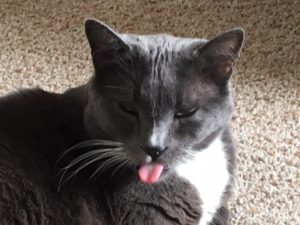 see what I mean when you dive into Book 33, The Secret Claws.
But isn't he quite the character? And, as with these photos of Rags's muse, Smokey, he has many moods and cattitudes.
Shine your reading glasses, make sure you have plenty of hot toddy and time around Valentine's Day, and get ready for another fun read.