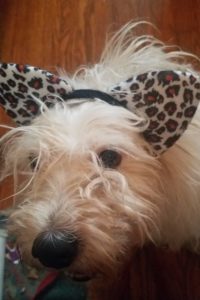 This is the Catscapades blog and I don't believe you'll find a Dogs-capades blog anywhere on the Internet, but what cat person doesn't also appreciate dogs and many other animals?
I belong to the Cat Writer's Association–an organization for those who use their communication skills and channels to educate the public about cats and their care. Our annual conference is coming up in May and many of us are preparing for a weekend of everything cat in St. Louis. We even wear cat motif clothing, shoes, jewelry–oh yes, this is the one time in the year that we practically become cats. And one of the fun accessories for us has become cat ears.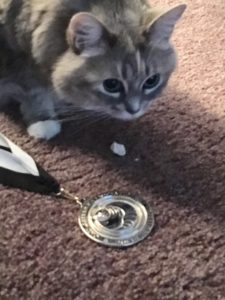 I bought an array of cat ears to go with my wardrobe this year and sent a couple pair to a cat writer friend. When she sent me this picture of her dog, Ozzie, trying them on I just had to share it. Isn't he adorable?
Those of you who read this blog love cats and advocate for cats. I invite you to check out membership and participation in the Cat Writers Association (CWA) at http://www.catwriters.com. And consider joining us at the conference. It's one of my favorite events of the year and I learn so much in the presentations, at the luncheons and banquet, and just mingling with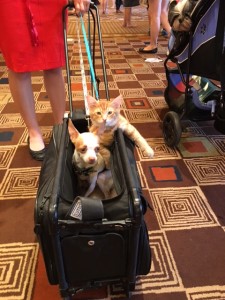 wonderful people who share my passion for cats. Many of them are extremely impressive in the time and expertise they give in such a variety of ways all to further the health and safety of our sweet fur-friends.
And you can win prizes for your writing. Here, Lily checks out my Muse Medallion that I won last year for this blog.
And don't forget, some dogs love cats, too.