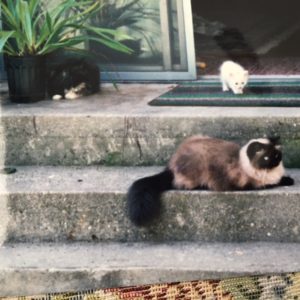 Ever since I established the inside-only rule for my cats, I've toyed with the idea of allowing them outdoor time in the sunshine. And I've talked about catios and other types of enclosure on the market. Here's another one that could offer a cat plenty of room to roam in your yard. Have you examined the Purrfect Fence? Check it out here: https://www.purrfectfence.com The company claims that even Houdini cats can't escape from these enclosures.
I've been seeing a lot of online promotion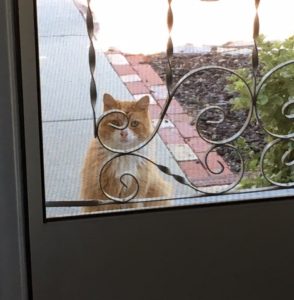 about new-fangled litter boxes. I've attempted to isolate a few to review, but there are just so many and then there's the litter choices, and let's don't forget about cat preferences. Here's a site that lists what someone believes is the best of the best for 2019. Do you agree? Disagree? https://www.thesprucepets.com/best-cat-litter-boxes-4151093 Wayfair has some incredibly attractive and discrete litterbox solutions and they're cheaper than some of the fancy automatic cleaning boxes. If I had more room in my bathrooms, this is the way I'd go—an attractive cabinet where the litter box is hidden and maybe the litter is more well contained. But would the cat shy away from entering the dark hole. You be the judge: https://www.wayfair.com/pet/sb0/litter-boxes-c409564.html
How about teaching your cat to use the toilet? Here's a start: https://www.wikihow.com/Toilet-Train-Your-Cat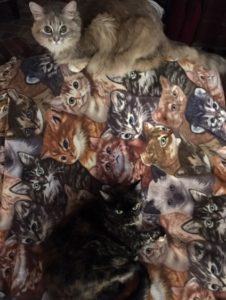 This site offers their pick for the best cat products of 2018. They include a folding cat tree. It looks rather like an interesting ladder for cats to climb. Cool. Also Jackson Galaxy has created a design for a new bed for cats—he calls it a donut cat bed. Sure looks comfy. But I just bought our cats a new kitty bed. I don't know why I keep doing that. We have four beds now and only two cats. I'll bring home a new bed and it sits empty for days—or weeks—even in winter when they're more apt to cozy down in a bed. Lily has not stepped one paw into it at all. Finally Sophie curled up in it. She seems to like it. Success. Here's the site showing best cat products for 2018: https://consciouscat.net/2018/12/26/10-best-cat-products-of-2018/
What is your cat's favorite product? Is it something for cats or your favorite new throw or pillow? Maybe it's a basket you've added to your décor and had hoped to use for magazines or something other than a cat toy. Our cats are fighting over a cozy throw that happens to have cat's all over it. Sophie usually curls up under it and Lily likes to lay on top of it. Last night we heard a commotion and found Lily under it and Sophie throwing a hissy fit—wanting her out of there. It doesn't help to provide a second blanket—not with these two strong-willed little girls.