I find it charming to see a cat at the window as I'm walking or driving past a home or a business. And I guess others do, too, as this is a scene artists paint, photographers shoot, and you see a lot on Christmas cards.
So why do cats pose at windows? Most likely they aren't actually posing. Their curiosity has gotten the best of them. The cat has already made her rounds inside and now she wants to check out the bigger world. Cats are nosey. They want to know what's going on. They sometimes behave like spies—secretly spying on people and other animals.
One study says that indoor cats spend an average of two hours a day looking out the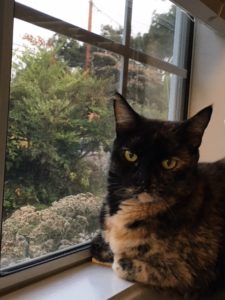 windows. And did you know that even indoor-outdoor cats enjoy window-watching. Here's a link sharing the psychology behind why cats spend time at the windows. And it gives some ideas for providing interesting views outside for your cats. For example, put up bird feeders. We do that for our pleasure as well as entertainment for our cats. But I hadn't thought of installing a light outside their favorite window to attract moths at night. Our cats love to watch moths. On a hot night, they spend quite a bit of time at the screen door watching the moths gather around our porch light. Here's a link explaining the psychology behind cats at windows.
https://www.companionanimalpsychology.com/2012/05/cat-at-window.html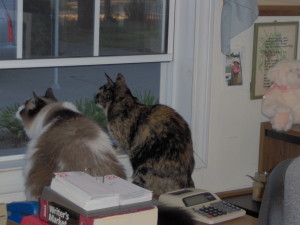 Not only do cats like to watch the wildlife outside the windows, but they'll wait on the windowsill or on the back of the sofa waiting for you to arrive home, especially if it's near their meal time.
Does your cat have adequate space to hang out at his favorite window? When we noticed that one of our cats liked looking out a particular window in our home and that the windowsill was too narrow for his large body, we built a little kitty shelf where he could sit more comfortably. All of our subsequent cats have enjoyed that perch, as well. There are also readymade window perches for cats—some are quite cozy-looking. Here's a link to a variety of them.
http://www.hayneedle.com Click on pets, cats, and window perches.
Do you want to see cool photos of cats at windows? Pinterest has hundreds of them.