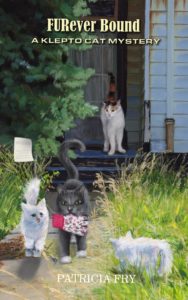 Some of you have already read Book 31 of the Klepto Cat Mystery—FURever Bound. Even though that was one of my longest stories and even though I just published it a matter of weeks ago, I'm close to finishing Book 32—Cats Don't Squeal.
I thought I'd tell you a little about the new story. The Iveys and Michael's twin brother, Keith, and his family are enjoying a beach house for a few weeks. Of course Rags travels with them to Southern California because Rob (his agent) has arranged for some book signings in the Los Angeles area. As Rags's fans know, a book signing is usually a great opportunity for Rags to misbehave or find some sort of trouble to get into. And his appearances in SoCal this summer are no exception. Imagine Rags in an oily mess, and what do you think happens when he finds himself a wild animal baby. Oh my!
Rags also digs up something that puts Savannah in a most precarious situation. Who will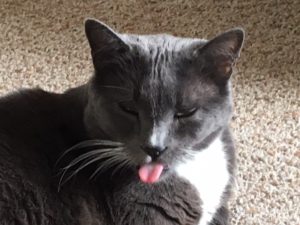 take care of Rags, not to mention the children, if she's arrested? Of course the malady is resolved—or is it? Sometimes these things can twist into something unexpectedly ugly.
I had fun with the side stories—Adam (Michael's son from a previous marriage) visits and he inadvertently opens up some opportunities for interesting occurrences. One involves our warm and crusty Detective Craig when he rolls on a possible horrendous crime scene and is treated to anything but. And I introduce a spunky and fun new cat in this tale. Of course she comes with a mighty secret that rattles the entire beach community.
Oh yes, there's a lot going on in this story including several mystery threads to keep readers on their toes.
Stay tuned, we may have Book 32, Cats Don't Squeal ready for purchase before the year's out.