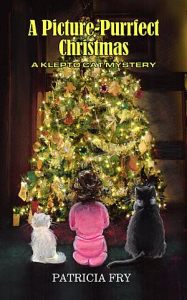 People wonder how I come up with my Klepto Cat Mystery stories. And that's somewhat still a mystery to me. It's just the way my mind works these days. How I made the switch from a staunch nonfiction writer to a novelist, I'm not quite sure. It seemed to be a natural transition for me. I wrote nonfiction articles and books during my working years. Now, in retirement, I'm having a blast being entertained by Rags and his friends.
Fans are interested in some of the props I use in my stories. For example, the methods I devise for carrying Rags on horseback when Savannah rode him into a desolate spot to see if he could find Marissa in A Picture-Purrfect Christmas. Rags rode in a duffle bag sort of carrier across the front of the saddle. And while I'm on the subject, don't forget to consider thrilling your friends with a gift of a Klepto Cat Mystery. A Picture-Purrfect Christmas would be a lovely surprise gift for anyone who enjoys a light mystery with cats.
In the latest story, Savannah has to create a sling using her sweatshirt to carry Rags on horseback. And there was the time when Rags went hiking and Michael rigged a backpack for when he tired of walking on the leash. He could either lie on top of the pack or sit inside and peer out. That gear was featured in Book 27, The Perilous Purrsuit.
I guess I could expand my Klepto Cat Mystery brand by coming out with Rags carry-packs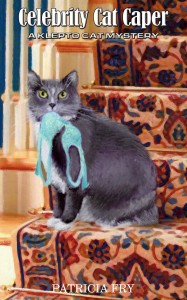 and slings for sale. We could design cat harnesses and leashes—a long leash for general use and a short one for specific purposes. How about a car seat for cats? Sure they have them, but we could create a spin for Rags's car seat. One of my favorite book covers is the one of Rags with the bra hanging from his mouth. We've designed note cards with that image. We could expand that collection to include coffee mugs, magnets, jewelry, t-shirts and so forth. The mugs and clothing should have a slogan or a saying. Does anyone have any ideas for that? Look at Book One, Catnapped and Book Six—Celebrity Cat Caper and come up with something to say about the picture of Rags with the bra.