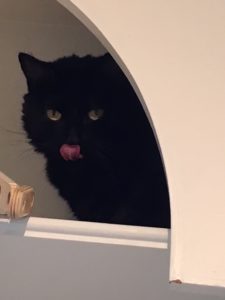 You might have clicked on this link simply to discover what in the heck the title implies. It's about black cats. Tomorrow (October 27) is National Black Cat Day. This is different from Black Cat Appreciation Day which is August 17. Why do black cats get these special days of honor? Why not white cats, tabbies, chocolate-colored cats. Well, there is a special day of honor for tabbies in April. But I digress.
Black cats, they say, are the last to be adopted and the first to be abused, so National Black Cat Day was established to help promote the beautiful, amazing black cat.
Have you ever had a black cat? I've had litters with black cats and found them wonderful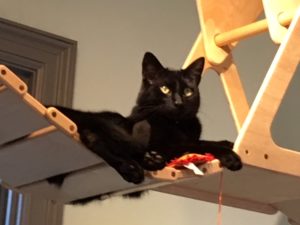 homes. Yeah, I was more inclined to keep the colorful calicos. I found a gorgeous black cat once when I was full-up with cats at my house and I found her another home. I haven't known a lot of black cats, actually—but there are a few in the neighborhood that run free. One is a love-bug and the other one is a terrorist. One of my grand cats lives across the street—he's an inside kitty and I LOVE being kitty care-taker to this beautiful and affectionate pure black boy. He's a munchkin—such a sweetie.
If you have a black cat, give them a hug tomorrow (well, two hugs—it's a special day). If you don't have a black cat and you have room in your heart for another cat—consider adopting that black one hiding in the corner of the pen or poking his paw out trying to get your attention–the one who may have been waiting for a FURever home for a very long time. Open your heart to a black cat and open your world to a bundle of joy.