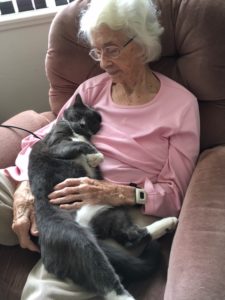 All cats are not born perfect. Some have disabilities from birth; others are injured or suffer a catastrophic physical event and many of them are euthanized. In Wisconsin, however, there are people who serve the disabled cat community in the most amazing way.
There are actually shelters for disabled cats, most of them running on donations. A volunteer at the Safe Haven Cat Sanctuary in Wisconsin single-handedly raised enough money to run the shelter for an entire year just by sleeping on the job. Here's the story with pictures: https://www.huffingtonpost.com/entry/shelter-where-man-naps-with-cats-is-now-flooded-with-donations_us_5ba94301e4b069d5f9d586ae
Note: This is a picture of my 90-plus-year-old mother with her cat, Smokey–the model for Rags in the Klepto Cat Mysteries.