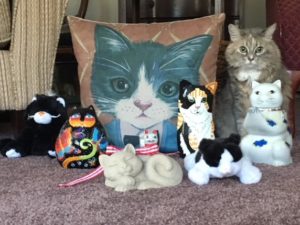 Do you like kitty-cat things as much as I do? I've revealed some of the cat-themed trinkets and other stuff I have around my home from decorative pillows to pitchers, and jewelry to a keychain, and salt & pepper shakers to measuring cups. Oh yes, this place is heading in the direction of cat museum. Like I need more cat things, but I just couldn't resist browsing at a few online cat-related stores this morning. Have you ever visited the Crazy Cat Shop? You must: https://crazycatshop.com OMG, I went bonkers when I started scrolling through all of the cat items—lockets, tee-shirts, even a welcome mat and the cutest coffee mugs.
If you're into old-fashioned looking, cutsie cat collectibles, you must visit the cat section of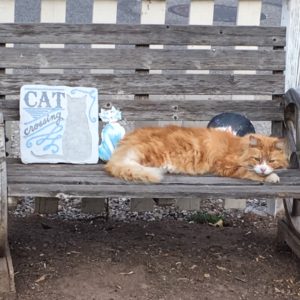 the Hamilton Collection. I can't help but remember some of the sweet birthday cards Grandma used to give me with cats on them. Visit this site and you'll run out of vocabulary for how cute the items are. https://www.hamiltoncollection.com/category/11201_cats.html If you're looking for a figurine depicting a fire fighter cat, a nurse cat, or a Dorothy cat (from Wizard of Oz), you'll find them here. No kidding! There are no traditional Hello! Kitty or Cat in the Hat here.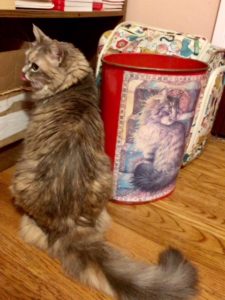 If you're into the more formal, rather exquisite, artsy cat collectibles, here's a site for you: https://www.novica.com/sculpture/cat/ Oh, did I mention pricey? But fun to look at, anyway.
And the largest array of cat items I could find is at the Animal Rescue Site. The link is about 500 characters long, so I'm not going to post it here. Go ahead and type in "Animal Rescue Site" and do a search. You'll find their amazing online store. They have 12 large pages of everything cat for the human.
Happy shopping. Share what you bought. And don't forget Christmas is around the corner in case you want to buy something for your favorite cozy mystery author.