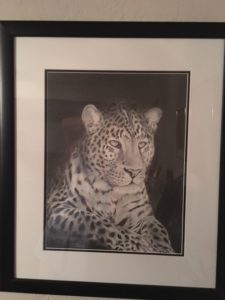 We see dogs posing for portraits wearing human clothing, horses being depicted as unicorns, and just about every animal in porcelain, ceramic, metal, wood, leather, etc. But is there any animal who is as photographed, painted, animated, emulated and otherwise portrayed as the cat?
Do all of us who adore cats admire and even collect other things cat? I've shared some of my favorite "cat art" in previous posts. I've collected cat things for years and have stopped myself many times from buying another piece of clothing or household accessory with a cat on it. But that doesn't stop friends and family from giving me kitty-cat art and doo-dads and I truly enjoy these things.
One of my favorite cat possessions is this pencil drawing of a magnificent leopard by a friend, Susan Colla. One of the quirkiest is a set of nesting measuring cups shaped like cats. Clever, and something I've never seen before—useful too, and given to me by a dear friend. Another meaningful piece of cat art I have on display is a pitcher shaped like a cat. I bought it when I really couldn't afford any extras, but I needed to do something risky nonetheless and treat myself. As I recall, it cost under $10, but buying it was a big statement-making, self-validating moment.
I think I've listed some of my cat things before—did I mention my stuffed cat computer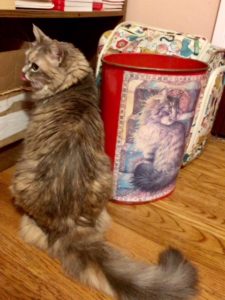 screen cleaner and my cat-face mousepad? Our hanger for extra keys is shaped like a cat and I'm drinking coffee out of a cup with cats on it. Recently, my mother gave me a trash can I've admired at her house for years. It has a painting of a gorgeous cat on it. Another favorite piece of cat art in my house is a throw (blanket) that my daughters had made for a birthday a few years ago. It has pictures of all of my Klepto Cat Mystery book covers up to that point. This is highly treasured—for its beauty as well as the beautiful thought and love that went into that gift.
I think just about everyone collects something. I also have a thimble collection and a collection of old sheet music. Mama collects inkwells. I know different people who collect frogs, things depicting Boston terriers, various ceramic collectibles (Hummels, Llardro, Willow), tea cups, etc. What interesting, unusual thing do you collect?